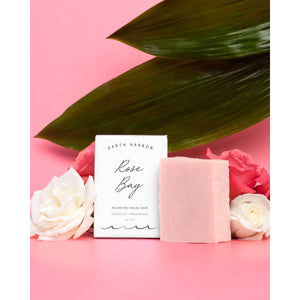 Rose Bay Balancing Facial Soap with Rose Extract and Coconut and Clay by Earth Harbor Naturals
Say hey to your new bae, Rose Bay. The enriching effects of Australian Pink Sea Clay, Moroccan Rose Extract, and Coconut Oil gently purify and remove build-up without stripping your skin. She is a luxe facial soap with a silken texture and calming aroma reminiscent of fresh roses in a bay breeze. Designed for balancing all skin types.
TARGET CONCERNS: Buildup · Dull Skin · Redness & Blotchy Skin
Purely Natural · No Synthetics · Vegan · Cruelty-Free · 100% Non-GMO · 85% Organic · Nontoxic · Fair Trade · Gluten Free · Soy Free · No Fillers · Plant-Based · Food-Grade · pH Optimized · Scientifically-Proven · Therapeutic-Grade · Small Batch Made By USA Mermaids · 1% For The Planet®
Saponified Oils of Coconut Oil (Cocos nucifera)°, Sunflower Oil (Helianthus annuus)°, Olive Fruit Oil (Olea europaea)°, Sustainable Palm Oil (Elaeis guineensis)°, Rose Geranium Flower Oil (Pelargonium graveolens)°°, Palmarosa Oil (Cymbopogon martinii)°°, Rose Flower Oil (Rosa damascena)°°, Australian Pink Sea Clay°°°, Moroccan Rose Extract (Rosa damascena)°°
° Certified Organic  |  °° Non-GMO  |  °°° Wildcrafted
Approximately 4 oz | 113 g
PURIFIES · TONES · RESTORES BALANCE
Australian Pink Sea Clay: Unearthed from an ancient sea, Pink Clay gently removes dead skin cells, cleanses the skin, and creates an overall refreshed appearance. Thanks largely to its high amounts of Iron Oxide and Silica, it is excellent for increasing elasticity and reviving skin tissue.
Moroccan Rose Extract: It takes nearly 5 dozen roses to make one drop of pure Moroccan Rose Extract. This rare oil is full of antioxidant tocopherols, phenolics, and beta carotenes to battle aging and cellular damage in the skin. It is perfect for sensitive skin due to its soothing, cooling, and anti-inflammatory properties. Maintain clean and refined pores with this antibacterial astringent.
Coconut Oil: Coconut Oil is a tropical treasure when it comes to its therapeutic properties and ability to rebalance skin. It's an excellent skin moisturizer, an ideal deep cleanser, and a collagen-repairer that has us all coming back for more.
Rose Geranium Oil: A natural anti-inflammatory, cleanser, and moisturizer, Rose Geranium effectively balances both dry and oily skin types. It tightens the skin's muscle tissues, hydrates deep beneath the surface, reduces redness and smooths your complexion to achieve clear, glowing skin.
With tepid water, lather between palms. Apply generously to moistened face. Rinse 3-5 times. Use daily. Follow with toner and moisturizer.