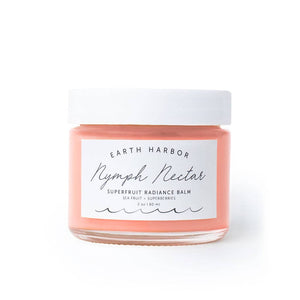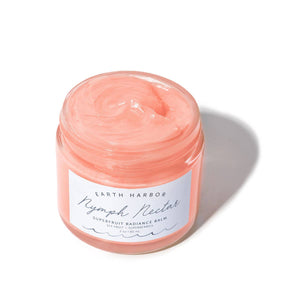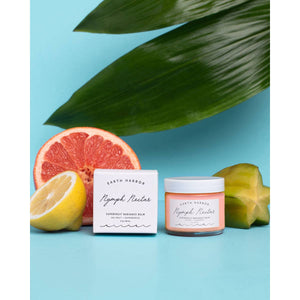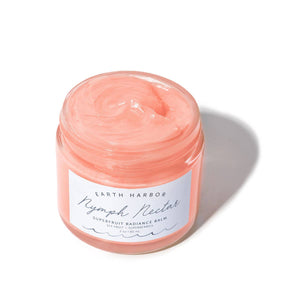 Radiance Nymph Nectar: Sea Fruit + Superberries Earth Harbor Naturals
From the loving arms of island nymphs comes the sweetest and richest whipped nectar— a buttery beauty secret known to instantly reveal pure radiance, induce youthful buoyancy, and impart perfect hydration to your skin. Nymph Nectar playfully melts across your face, inserting a lively abundance of bioactives formulated to be a deeply moisturizing, whipped plumping balm for all skin types. She doubles as a luxurious sleeping mask and rescue treatment for achieving your bounciest, dewiest skin yet.
DEEPLY MOISTURIZES · BOOSTS CONTOURS · FILLS FINE LINES · INCREASES ELASTICITY · REPAIRS · MAKES SKIN LOOK HEALTHY
As a moisturizer: After applying any desired treatment(s) to clean skin, emulsify a very tiny amount of Nymph Nectar between your fingertips and gently massage into your skin.
Wear her in place of water-soluble moisturizers, or layer her on top for an extra "oomph" of hydration. As she locks in moisture and works her magic, wait a couple minutes for your skin to fully absorb Nymph Nectar before applying makeup. Also apply her to any dry areas on your body.
As a sleeping mask: For the last step in your nighttime ritual, apply a generous layer of Nymph Nectar and massage into your face, neck and décolleté. Let her absorb for 10 minutes before bedtime. In the morning, wash her off with warm water.
As a rescue repair treatment: Scoop a small dollop onto your fingertips and massage into affected area.
As a cleansing balm: On dry skin, use fingertips to massage Nymph Nectar over face and eyes. Add water to activate, rinse well with warm water and pat dry. May also be removed with a soft, damp cloth. Follow with a second cleanse with either Aloha Love or an Earth Harbor Facial Bar Soap.
Tip: Nymph Nectar is also the loveliest way to moisturize lips and cuticles
Olive Fruit Oil (Olea europaea)°, Mango Seed Butter (Mangifera indica)°°, Kokum Seed Butter (Garcinia indica)°°, Cranberry Seed Oil (Vaccinium macrocarpon)°°, Seabuckthorn Berry Oil°, Raspberry Seed Oil (Rubus idaeus)°°, Sunflower Seed Oil (Helianthus annuus)°, Poppy Seed Oil (Papaver somniferum)°°°, Sea Fruit Extract (Ascophyllum nodosum)°, Kakadu Plum Extract (Terminalia ferdinandiana)°°, Passion Fruit Extract (Passiflora edulis)°°, Blueberry Fruit Extract (Vaccinium angustifolium)°°, Banana Fruit Extract (Musa sapientum)°°, Coconut Fruit Extract (Cocos nucifera)°°, Proprietary Blend of Therapeutic-Grade Essential Oils°°
° Certified Organic | °° Non-GMO | °°° Wildcrafted
 1oz