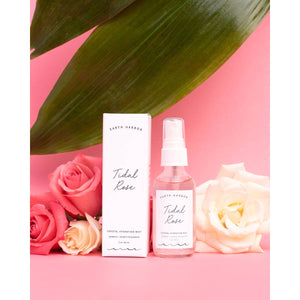 Hydration Mist: Quartz Rosewater + Seaweed Earth Harbor Naturals
A natural toner, hydration-enhancer and makeup setter, Tidal Rose infuses nutrient-dense Seaweed with high-vibration Rose Quartz Rosewater, antioxidant-rich White Tea Extract, and youth-preserving Hibiscus Extract. She locks in moisture, softens skin, and restores pH balance while metaphysically balancing chi — all of which are vital for having fresh, rejuvenated skin.
TARGET CONCERNS: Dry or Inflamed Skin · Rough Skin · Fine Lines & Wrinkles
Purely Natural · No Synthetics · Vegan · Cruelty-Free · 100% Non-GMO / Organic · Nontoxic · Fair Trade · Gluten Free · Soy Free · No Fillers · Plant-Based · Food-Grade · pH Optimized · Scientifically Proven Ingredients · Therapeutic-Grade · Small Batch Made By USA Mermaids · 1% For The Planet®
SOOTHES INFLAMMATION · HYDRATES · REPAIRS · TONES
Seaweed Extract: Seaweed has long been prized for its anti-inflammatory benefits and healing properties. This macro algae is full of powerful minerals and vitamins that boost overall skin health.
Rose Quartz Rosewater: Rose is the queen of all flowers, and her skincare benefits reign, too. Quartz-infused Rose Flower Water is hydrating, high in antioxidants, pH balancing, anti-aging, and excellent for reducing redness and inflammation with metaphysical benefits of encouraging unconditional love and positive energy.
White Tea Extract: White Tea is full of antioxidants that are vital for healthy, glowing skin. In fact, these are the same antioxidants contained in Green Tea, yet in greater quantity. White Tea helps remove toxins, protects against environmental damage, and leaves skin looking supple and youthful.
Hibiscus Flower Extract: Hibiscus naturally exfoliates, boosts moisture retention, evens skin-tone, and increases cell turnover due to its rich content of natural Malic and Citric Acid.
Spritz your face 3-5 times and rub her in. For best results, use after cleansing and before applying moisturizer. Also use her throughout the day whenever you need extra hydration and refreshment.
Customize: Mist your face generously while masking for ultimate skin benefits.
Rose Flower Water°°, Hibiscus Flower Extract°, Glucose Ferment Filtrate°°, Vegetable Glycerin°°, White Tea Extract°, Seaweed Extract°, Radish Root Ferment Filtrate°°, Rose Quartz Crystal°°°
°Certified Organic  | °° Non-GMO | °°° Wildcrafted
Disclaimer: Due to the nature of Hibiscus leaves, color may vary.
2 oz | 60 mL glass bottle with spray top