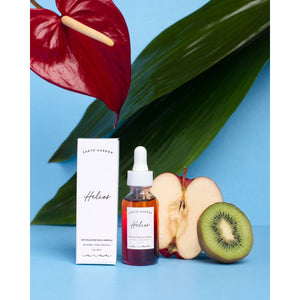 Helios Anti-Pollution Youth Ample Serum Oil by Earth Harbor Naturals
Named after the powerful Greek deity of the sun, Helios Anti-pollution Youth Ampoule is an almighty ambrosia brimming with ultra-reparative Plant Stem Cells and a fountain of youth-preserving Red Algae Astaxanthin. Unparalleled in strength for combating pollutants and daily skin stressors, this liquid gold ampoule is a godsend for skin in need of immediate replenishment, bold defense against the elements, and thriving barrier function.
Helios worships your sacred face by renewing skin through stem cell technology while restoring depleted antioxidants, normalizing skin pH, smoothing fine lines and wrinkles, and enveloping you in a sensual ritual with her velvety consistency and citrus blossom aroma.
TARGET CONCERNS: Pollution Control · Fine Lines & Wrinkles · Lack of Crucial Nutrients · Stressed Skin
Purely Natural · No Synthetics · Vegan · Cruelty-Free · 100% Non-GMO / Organic · Nontoxic · Fair Trade · Gluten Free · Soy Free · No Fillers · Plant-Based · Food-Grade · Scientifically-Proven Ingredients · Therapeutic-Grade · Small Batch Made By USA Mermaids · 1% For The Planet®
ANTI-POLLUTION · REPAIRS · RENEWS · PROTECTS · SMOOTHS · ILLUMINATES
Red Algae Astaxanthin is an unrivaled antioxidant shown to be more effective than Vitamin C at helping skin protect itself against environmental damage and free radicals. It increases moisture retention, elasticity, and promotes skin smoothness, decreasing fine lines and wrinkles. 
Plant Stem Cells cultivated from apples and argan impart youth-enhancing + anti-pollution + anti-aging phytonutrients to your skin by hyper-enhancing skin's ATP synthesis, cellular metabolism, and radical scavenging properties.
Marula, Grapeseed, Baobab, and Borage Seed Oils have molecular structures that allow for their abundant amounts of moisture, vitamins, fatty acids, and antioxidants to easily absorb into your skin. Their hallmark skin benefits include reducing water loss, increasing smoothness, reducing redness, nourishing, healing, moisturizing, firming, and improving skin elasticity — all without clogging your pores!
Neroli Flower and Sweet Orange Oils are highly prized for their powerful youth-preserving and antimicrobial properties. They have been used for centuries to help diminish wrinkles, reduce veins and capillaries, and generate new growth in skin cells.
Cranberry Seed Oil is a superfruit containing one of the highest antioxidant and phytosterols content of any fruit or vegetable oil. It also has impressively high essential fatty acid and Vitamin E content. All of this synergistically combines to be an ultimate skin nurturer, renewer, and natural antipollution hero. 
Calendula Flower Extract was revered by Ancient Egyptians for its rejuvenating qualities. As an immunostimulant, its antiseptic and antimicrobial properties help heal skin imperfections, soothe irritations and blemishes, and regulate skin's natural oil production. Above all, this mystical herb stimulates the production of collagen for more youthful, glowing skin.
Pomegranate and Pumpkin Seed Oils contain rare fatty acids, which have phenomenal anti-inflammatory properties. They fend off free radicals to keep skin's aging at bay while working to reverse sun damage, creating a more even skin tone and leaving skin feeling supple and healthy.
For a hyper-concentrated treatment: Apply two or more drops to your skin after cleansing and toning, as needed. If using another treatment and/or moisturizer, massage Helios until absorbed.
For a daily skincare cocktail: Add two or more drops of Helios to any Earth Harbor serum, facial oil or moisturizer both morning and night.
Customize: Helios is as versatile as she is safely potent, so feel free to use her any way that best fits your skincare ritual preferences.
Store at room temperature and out of direct sunlight.
Grapeseed Oil (Vitis vinifera)°°, Cranberry Seed Oil (Vaccinium macrocarpon)°°, Pomegranate Seed Oil (Punica granatum)°°, Marula Oil (Sclerocarya birrea)°°, Baobab Seed Oil (Adansonia digitata)°°, Pumpkin Seed Oil (Cucurbita pepo)°, Sunflower Vitamin E (Tocopherol)°°, Sunflower Seed Oil (Helianthus annuus)°°, Jojoba Seed Oil (Simmondsia chinensis)°, Borage Seed Oil (Borago officinalis)°, Apple Fruit Stem Cell Extract (Malus domestica)°°, Argan Sprout Stem Cell Extract (Argania spinosa)°°, Red Algae Astaxanthin Extract (Haematococcus pluvialis)°, Sweet Orange Peel Oil (Citrus sinensis)°, Neroli Flower Oil (Citrus aurantium)°°, Calendula Flower CO2 Extract (Calendula officinalis)°°
° Certified Organic  | °° Non-GMO

1 oz | 30 mL glass bottle with dropper