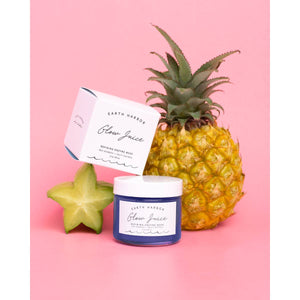 Glow Juice Refining Enzyme Mask by Earth Harbor Naturals
A purple paradise, this powerful fast-acting AHA/BHA gel mask naturally resurfaces + cools + firms skin with Red Seaweed, Fruit Enzymes, White Willow Bark and Aloe Leaf Juice to reveal greater clarity, improved skin texture and tone, and a more youthful glow — all without irritating your skin.

Made with our ultra glow-inducing duo of 25% AHAs and 5% BHAs.

TARGET CONCERNS: Dull Skin · Redness · Acne · Pores · Excess Oil

Purely Natural · No Synthetics · Vegan · Cruelty-Free · 100% Non-GMO · 94% Organic · Nontoxic · Fair Trade  · Gluten Free · Soy Free · No Fillers  · Plant-Based · Food-Grade · pH Optimized · Scientifically-Proven Ingredients · Therapeutic-Grade · Small Batch Made By USA Mermaids · 1% For The Planet®
30-Day Love It Guarantee
GENTLY EXFOLIATE · REDUCE REDNESS · FIRM  · DECONGEST PORES  ·  EVEN COMPLEXION


Red Seaweed: Rich in antioxidants and Vitamin C, it helps correct dark spots, brighten complexion, improve elasticity, and promote overall skin health.
Fruit Enzymes: Mother Nature's alpha hydroxy acids (AHAs) — including pineapple, pomegranate and other tropical fruits — tenderly exfoliate and rid skin of dead cells for smooth, healthy-looking skin.
White Willow Bark: A botanical beta hydroxy acid (BHA) with natural salicylic acid to clarify complexion and protect skin from bacterial build-up.

Rice Powder: Used in the Far East for centuries, it softens, brightens and refines complexion.

Turmeric Root: The anti-inflammatory qualities target pores, reduce acne, and calm the skin. It is also known to help scarring.

Aloe Leaf Juice: While providing a cooling sensation, it unclogs pores and removes blackheads while soothing dry skin, reducing redness, and plumping skin.

Eggplant fruit, ivy gourd, and red seaweed give Glow Juice her exotic purple color while bestowing your sweet skin with vital nutrients.
Apply to clean skin. Leave on for 3 or more minutes. Rinse with warm water. Gentle tingling is normal as she works to lovingly resurface and exfoliate your skin. Follow with Tidal Rose Crystal Hydration Mist and facial oil for optimal skin benefits. Use 2-3 times per week.

Tip: Glow Juice doubles as a spot treatment gel that quickly fights, fades, and prevents blemishes. Simply cleanse skin thoroughly, then apply a thin layer 1-3 times daily or as needed. 

Customize: Mix with any Earth Harbor liquid treatment to create a hyper-targeted moisture mask.

This product contains AHA (Alpha Hydroxy Acid) which may result in skin sensitivity to the sun. Limit sun exposure when using this product and after use.
Aloe Leaf Juice (Aloe barbadensis)°, Cane Alcohol°^, Vegetable Glycerin°, Rice Powder (Oryza sativa)°, White Willow Bark Extract (Salix alba)°, Pineapple Fruit Extract (Ananas sativus)°°, Pomegranate Fruit Extract (Punica granatum)°°, Starfruit Extract (Averrhoa carambola)°°, Passionfruit Extract (Passiflora incarnata)°°, Kiwi Fruit Extract (Actinidia chinensis)°°, Mangosteen Fruit Extract (Garcinia mangostana)°°, Lychee Fruit Extract (Litchi chinensis)°°, Jujube Fruit Extract (Zizyphus jujuba)°°, Guava Fruit Extract (Psidium guajava)°°, Xanthan Gum (plant-based emulsifier)°°, Red Seaweed Extract (Corallina officinalis)°°°, Neem Leaf Extract (Melia azadirachta)°°, Neem Flower Extract (Melia azadirachta)°°, Ivy Gourd Fruit Extract (Coccinia indica)°°, Eggplant Fruit Extract (Solanum melongena)°°, Aloe Flower Extract (Aloe barbadensis)°°, Holy Basil Leaf Extract (Ocimum sanctum)°°, Turmeric Root Extract (Curcuma longa)°°, Water (Deionized Aqua), Amino Acid Complex (Amino-Esters-1)°°, Basil Leaf Extract (Ocimum basilicum)°°, Radish Root Ferment Filtrate (Leuconostoc)°°, Marionberry Isolate (Rubus marion)°°

° Certified Organic | °° Non-GMO | °°° Wildcrafted
^From sugar cane, organic cane alcohol is nontoxic, non-drying, non-sensitizing and formulated to soothe skin while delivering nutrients.

When exposed to continual sunlight, this product can turn a beautiful vibrant blue color (but it does not affect the efficacy of the product).

2 oz | 60 mL glass jar