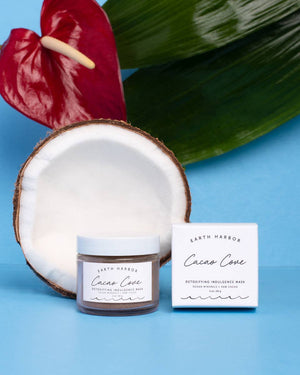 Detox Dessert Mask: Raw Cacao + Ocean Mineral Earth Harbor
The most indulgent treat that will ever grace your face, Cacao Cove Mask is a rich topical purifier, synergistic strengthener, and vibrant rejuvenator. Tickle your senses and intensely replenish your skin with Raw Cacao antioxidants, Ocean Mineral healing, Coconut Milk hydration, Citrus Cream luminosity, and Blue Green Algae phytonutrients while Activated Coconut Charcoal powerfully, yet gently, extracts impurities and toxins from the skin. Cacao Cove Mask is formulated to deeply detoxify, reduce existing blemishes, and improve overall appearance of skin while delivering the yummiest of superfood skin nutrition.
TARGET CONCERNS: Anti-Pollution · Blackheads & Blemishes · Redness & Blotchy Skin · Dull Skin or Uneven Texture · Lack of Vital Nutrients 
Purely Natural · No Synthetics · Vegan · Cruelty-Free · 100% Non-GMO / Organic / Wildcrafted · Nontoxic · Fair Trade · Gluten Free · Soy Free · No Fillers · Plant-Based · Food-Grade · No Artificial Chemicals · Scientifically-Proven Ingredients · Therapeutic-Grade · Small Batch Made By USA Mermaids · 1% For The Planet®
Fair Trade Raw Cacao (Theobroma cacao)°, Italian Green Clay (Montmorillonite)°°°, Coconut Milk Fruit Powder (Cocos nucifera)°, Activated Coconut Charcoal°°, Allantoin (plant-based humectant)°°, Zinc Oxide (non-nano, uncoated, micronized)°°, Vitamin C Ester (Ascorbyl palmitate)°°, Blue Green Algae (Aphanizomenon flos-aquae)°, Vegan DMAE Bitartrate (fruit acid antioxidant)°°, Vegan MSM (ocean minerals)°, Proprietary Blend of Therapeutic-Grade Citrus Essential Oils°°, Vanilla CO2 (Vanilla planifolia)°°
° Certified Organic  |  °° Non-GMO  |  °°° Wildcrafted
2 oz | 60 g glass jar
Start with a clean face. Mix ½ - 1 tsp with a few drops of water until a nice paste is formed. Scoop a small amount into your fingertips, or for easier and smoother application, use a Mask Ritual Brush. Massage into damp skin in upward and outward circular motions. Let mask sit cute for 5-15 minutes. Then remove with warm water before mask is completely dry. Follow with a cool water splash. Keep in a dry place.
To get the best results, mask 2-3 times a week if you have oily to combination skin, or 1-2 times weekly if you have dry or sensitive skin.
Customize: Add facial oil or serum in place of water for extra healing and skin benefits. Also, spray Tidal Rose Crystal Hydration Mist on your face while masking for added hydration.
Created as a detoxifying + retexturing mask to benefit all skin types.
DETOXIFIES · ELIMINATES CONGESTION · CLEARS BLEMISHES · DELIVERS NUTRIENTS · RETEXTURIZES
Raw Cacao + Microdermabrasion Cacao Nibs: a superfood with high levels of antioxidants, vitamin C, magnesium, and omega fatty acids that protect and repair the skin at a cellular level. As a potent anti-inflammatory, it calms redness and blemishes, improving skin's complexion while rounded nibs offer the gentlest physical exfoliation.
Ocean Minerals and Blue Green Algae: Boost healthy collagen and keratin production, minimizes the signs of premature aging, and regulates a healthy youthful complexion. They have potent detoxifying and anti-inflammatory benefits, fortify the skin's support matrix, and helps combat a wide variety of skin symptoms — from eczema to acne.
Coconut Milk: Full of vitamins A and C, along with natural proteins, it softens, soothes, clarifies and moisturizes skin.
Activated Coconut Charcoal: The porous molecules make it highly absorbent and purifying, while also gently retexturizing skin — excellent for intensely cleansing and detoxifying your skin.
Italian Green Clay: Italian Green Clay delivers minerals galore to your skin — a key factor in having a smooth and refreshed look. Not only does it revitalize and strengthen skin, Italian Green Clay is a major detoxifying agent that attracts toxins and impurities. It also minimizes redness and puffiness on the skin's surface.
DMAE Bitartrate: Made from fruit acid, it is one of the most effective blessings from nature for visibly tightening and restoring skin's elasticity. This effect is the result of advanced dermal layer hydration, increasing thickness to the dermal layer, and stimulating collagen production; all of which leads to stronger, plumper, firmer, and more toned skin.
Vitamin C Ester: Vitamin C Ester is a powerful natural molecule from plant-based Vitamin C and sustainable Palm Oil that fights aging skin. Unlike other forms of Vitamin C, it is fat-soluble and pH neutral (non-irritating to the skin), making it optimal for quick nutrient absorption, increasing skin's antibody levels, and offering overall youthful resiliency to your skin.