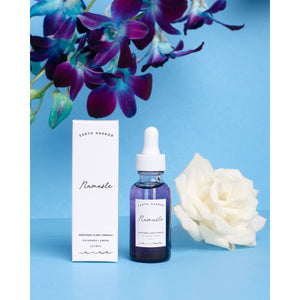 Clarity Elixir: Sea Lavender + Ginseng Earth Harbor Naturals
The answer to finding inner peace and the light within your skin. Both a potent clarifying treatment and a gentle glow-enhancing facial oil, Namaste Adaptogen Clarity Ampoule is a featherlight, flash-absorbing formula specifically designed to heal distressed skin prone to acne, blemishes, and excess oil.
Her advanced blend of hyper-concentrated Sea Lavender + Ginseng adaptogens, antioxidants, and antibacterial botanicals fight infection, regulate sebum production, clear congestion, and restore vibrancy. Take a deep breath and invision clear, purified skin; now bring your hands together at the heart chakra and finally whisper, "Namaste".
TARGET CONCERNS: Acne · Blemishes · Congestion · Blackheads · Large Pores · Excess Oil · Scarring
Purely Natural · No Synthetics · Vegan · Cruelty-Free · 100% Non-GMO / Organic / Wildcrafted · Nontoxic · Fair Trade · Gluten Free · Soy Free · No Fillers · Plant-Based · Food-Grade · Scientifically-Proven Ingredients · Therapeutic-Grade · Small Batch Made By USA Mermaids · 1% For The Planet®
CLEARS ACNE · CLARIFIES · PURIFIES · PREVENTS BLEMISHES
Sea Lavender is an adaptogenic hydration hero with nourishing properties that soften and rejuvenate the skin while preventing moisture loss. It is quickly absorbed by the skin to work deeply from the inside out — clearing clogged pores, calming skin irritations, and promoting quicker blemish recovery. 
Ginseng Extract has been shown to lower oil-spiking cortisol levels (caused by stress) which impacts oil production. Used for thousands of years as a detoxifier, this powerful adaptogen is a staple in Ayurvedic medicine to help reduce inflammation, clear blockages in pores, and reduce acne breakouts. It is also an antiseptic, antibacterial, and antifungal. 
Squalane, Safflower, and Sunflower are must-haves for breakouts. They balance skin's oil production, protect skin from pollution, fight acne with anti-bacterial properties, prevent premature aging with antioxidants, and even help improve the appearance of acne scars.
Rose Petal Extract is known to be one of the most beautifying and gentle oils — lovingly restoring radiance, tightening pores, and giving a perfecting boost to overall skin appearance. 
For a hyper-concentrated treatment: Apply two or more drops to your skin after cleansing and toning, as needed. If using another treatment and/or moisturizer, massage Namaste until absorbed.
For a daily skincare cocktail: Add two or more drops of Namaste to any Earth Harbor serum, facial oil or moisturizer both morning and night.
Customize: Namaste is as versatile as she is safely potent, so feel free to use her any way that best fits your skincare ritual preferences.
Store at room temperature and out of direct sunlight.
Squalane (Olea europaea)°°, Safflower Seed Oil (Carthamus tinctorius)°°, Ginseng Extract (Panax ginseng), Medium Chain Triglycerides (Caprylic/Capric Triglycerides)°°, Sea Lavender Extract (Limonium gerberi)°°°, Sunflower Seed Oil (Helianthus annuus)°°, Sunflower Vitamin E (Tocopherol)°, Rose Petal Extract (Rose damascena)°°
° Certified Organic  | °° Non-GMO | °°° Wildcrafted
1 oz | 30 mL glass bottle with dropper