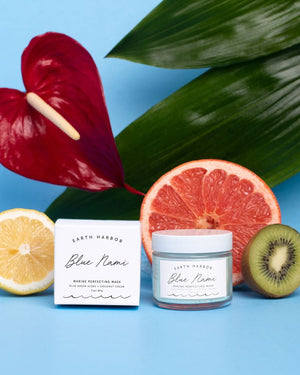 Blue Nami Marine Perfecting Face Mask by Earth Harbor Naturals
Blue Nami Marine Perfecting Mask was created to beautify and soften skin with a wave of nourishment. Excellent to use before an evening out or whenever your skin needs extra TLC. A Blend of Clays and Coconut Cream work to lovingly exfoliate dry and dead skin buildup while Blue Green Algae and Indigo provide luxurious skin nutrition. Blue Nami gently removes your top layer of skin to unveil newer, fresher skin while releasing a scrumptious aroma like a slice of Key Lime-Coconut Pie. Expect to have brighter, smoother, and more glowing skin immediately after use.
TARGET CONCERNS: Buildup · Dull Skin or Uneven Texture · Blocked Pores
Purely Natural · No Synthetics · Vegan · Cruelty-Free · 100% Non-GMO / Organic · Nontoxic · Fair Trade · Gluten Free · Soy Free · No Fillers · Plant-Based · Food-Grade · No Artificial Chemicals · Scientifically-Proven Ingredients · Therapeutic-Grade · Small Batch Made By USA Mermaids · 1% For The Planet®
SMOOTHS · MINIMIZES PORES · ANTI-POLLUTION · MAKES SKIN FEEL HEALTHY
Blue Green Algae: Blue Green Algae is full of proteins and fatty acids which lift and tone skin — aiding in firming and tightening at a cellular level, while providing crucial amino acids that make skin look rejuvenated and fresh.
Coconut Cream: Full of vitamins A and C, along with natural proteins, it softens, soothes, clarifies and moisturizes skin.
Indigo Root: Best known for its rich color, Indigo Root also has a long history of use in traditional Eastern medicine. The active compounds in Indigo have anti-inflammatory properties, antibacterial, and antifungal effects on skin that soothe, cleanse, and tighten pores.
Kaolin + Bentonite Clay: This dynamic clay duo delivers minerals galore to your skin — a key factor in having a smooth and refreshed look. Not only do they revitalize and strengthen skin, Kaolin and Bentonite Clays are a major detoxifying agent that attract toxins and impurities. They also balance out skin tone while making skin look and feel brighter and more supple.  
Vegan MSM: MSM boosts healthy collagen and keratin production, minimizes the signs of premature aging, and regulates a healthy youthful complexion. As a unique crystal organic sulfur derived from the ocean, MSM has potent detoxifying and anti-inflammatory benefits, fortifies the skin's support matrix, and helps combat a wide variety of skin symptoms — from dry skin to acne.
As a mask: Start with a clean, moist face. Mix 1-2 tsp and add water drop by drop until a nice paste is formed. Scoop a small amount into your fingertips, or for easier and smoother application, use a Mask Ritual Brush. Massage into skin in circular motions. Let mask sit cute for 5-10 minutes to work her magic, and then remove with warm water. Follow with a cool water splash. Keep in a dry place.
As a cleansing powder: Pour a teaspoon into your hand and add water, drop by drop, until you reach a frothy consistency. Massage into moist skin in circular motions. Rinse.
To get the best results, use 2-3 times a week if you have oily to combination skin, or 1-2 times weekly if you have dry or sensitive skin.
Customize:  When using Blue Nami as a mask or cleanser, replace water with Tidal Rose Hydration Mist for calming + toning effect. When using as a mask, replace water with Sunshine Dew Antioxidant Cleansing Oil for an ultra-hydrating antioxidant mask!
Kaolin Clay°, Bentonite Clay°, Coconut Milk Fruit Powder (Cocos Nucifera)°, Ultramarine Blue°°, Blue Green Algae (Aphanizomenon flos-aquae)°, MSM (vegan organic crystal sulfur)°, Indigo Root Powder (Indigofera tinctoria)°°, Essential Oils of*: Sweet Orange (Citrus sinensis)°°, Lemon (Citrus limon)°°, Grapefruit (Citrus paradisi)°°, Mandarin (Citrus reticulata)°°, Bergamot (bergaptene-free Citrus bergamia)°°, Tangerine (Citrus reticulata)°°, Clementine (Citrus clementina)°°, Vanilla CO2 (Vanilla planifolia)°°
° Certified Organic  |  °° Non-GMO
*Citrus oils are properly extracted and formulated to have no photosensitizing effects.
2 oz | 60 g glass jar